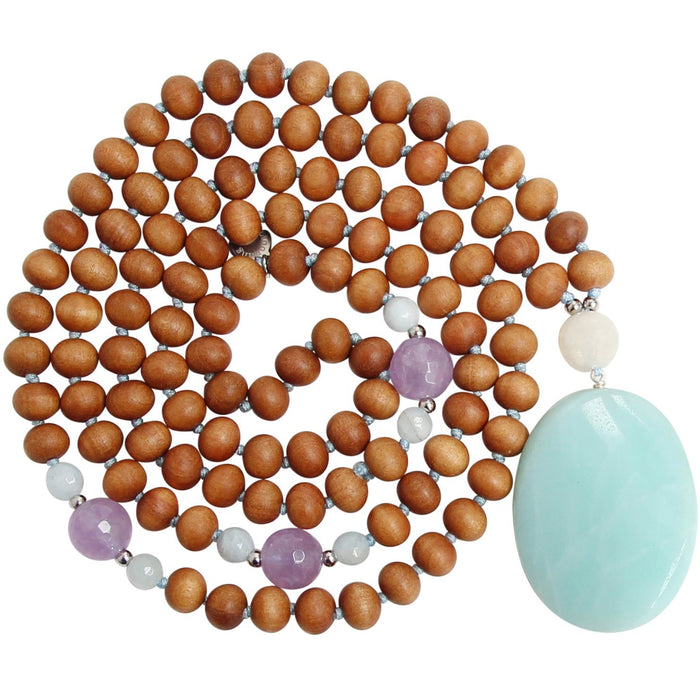 Blooming Lotus Jewelry's best seller and featured in Yoga Journal. Bridging the heart and throat chakras, this mala facilitates loving and compassionate communication, and encourages you to be more present and in the moment.
A stone of harmony, truth, and peace, Amazonite supports you in communicating your thoughts and feelings with a compassionate heart.  It emits a strong soothing energy, helping to dissipate worry, fear and anger and helps to balance your mood.
With it's iridescent and reflective glow, Moonstone reminds you that everything is part of a cycle. Moonstone balances emotions, promoting clarity and helping one be more receptive. Inspires softness, sensitivity, patience and tolerance.
Amethyst offers protection, brings clarity and promotes selflessness and discovering inner wisdom. It stimulates inspiration, intuition and contributes to finding deep inner peace and harmony. It is a perfect companion for meditation, helping slow down your thoughts so that you can be more present and in the moment.
Aquamarine encourages communication and speaking one's truth. Diminishes stress, fear and anxiety and helps to calm and clear the mind.
Sandalwood promotes humility and its scent is believed to aid and maintain a person's alertness while meditating.
Beads & Gemstones: 108 Sandalwood, Amazonite focal stone, Moonstone Guru bead, Amethyst marker/counter beads bordered by Aquamarine
Hand-knotted with love on light blue cord
Sourcing of our sandalwood mala beads:
Since 2014, Blooming Lotus Jewelry has been supporting a family-owned small business in Rishikesh, India, by sourcing all of our sandalwood beads from them. In October of 2014, I met with the family in person at their shop in the heart of Rishikesh, the birthplace of yoga. Our sandalwood is sustainably sourced in Mysore, India, adhering to harvesting regulations and using fair-trade practices. It then makes its way to my supplier in Rishikesh, before heading to us here in the U.S. to be assembled into various mala designs unique to Blooming Lotus Jewelry. We are proud to know our source personally and directly support their family for the past 8 years.