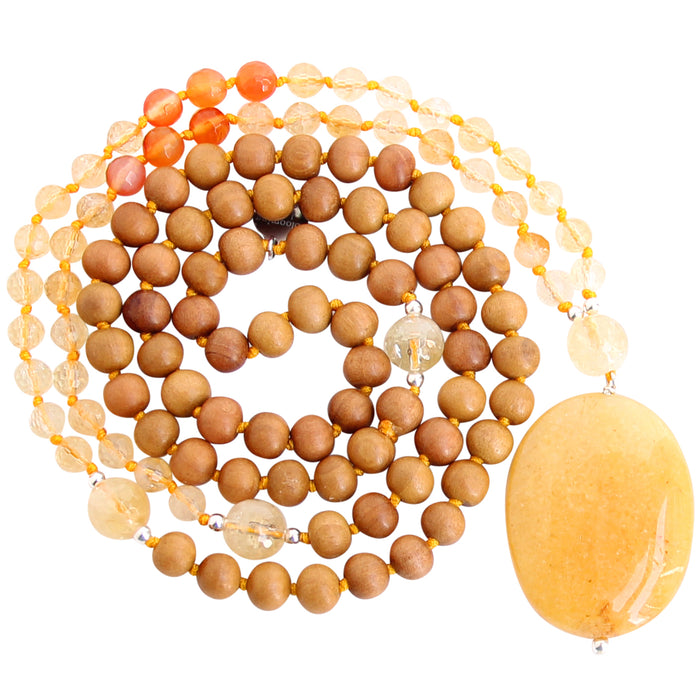 It's time to connect with your inner warrior and personal power. Wear this mala and be reminded of what fires you up. When you are confident and clear with what you are seeking, have a strong sense of purpose and are self-motivated, you can move forward in achieving your life's goals and intentions.   
Yellow Jade brings joy and happiness to our lives and reminds us that we are all connected. Helps to support the person that you are on your journey through life, and all the changes that come with it.  
Citrine is known to attract wealth, abundance and prosperity. It favors the expression of individuality and stimulates the desire for change and new experiences.
Carnelian is a stone of abundance and turns daydreams into everyday reality, moving you closer to manifesting success in business and other corners of your life. It is a stone of courage as it instills self-confidence and encourages standing up for oneself. 
Sandalwood promotes humility and its scent is believed to aid and maintain a person's alertness while meditating.
Beads & Gemstones: 108 mala beads (Sandalwood, 6mm Citrine, 6mm Carnelian), Yellow Jade large focal stone, Citrine Guru bead, Citrine counter beads
Hand-knotted with love on yellow cord
Sourcing of our sandalwood mala beads:
Since 2014, Blooming Lotus Jewelry has been supporting a family-owned small business in Rishikesh, India, by sourcing all of our sandalwood beads from them. In October of 2014, I met with the family in person at their shop in the heart of Rishikesh, the birthplace of yoga. Our sandalwood is sustainably sourced in Mysore, India, adhering to harvesting regulations and using fair-trade practices. It then makes its way to my supplier in Rishikesh, before heading to us here in the U.S. to be assembled into various mala designs unique to Blooming Lotus Jewelry.  We are proud to know our source personally and directly support their family for the past 8 years.